​Buyer's Guide: A Comprehensive Look At Snow Plows For Your CFMoto UForce And CFMoto ZForce
Jan 16th 2023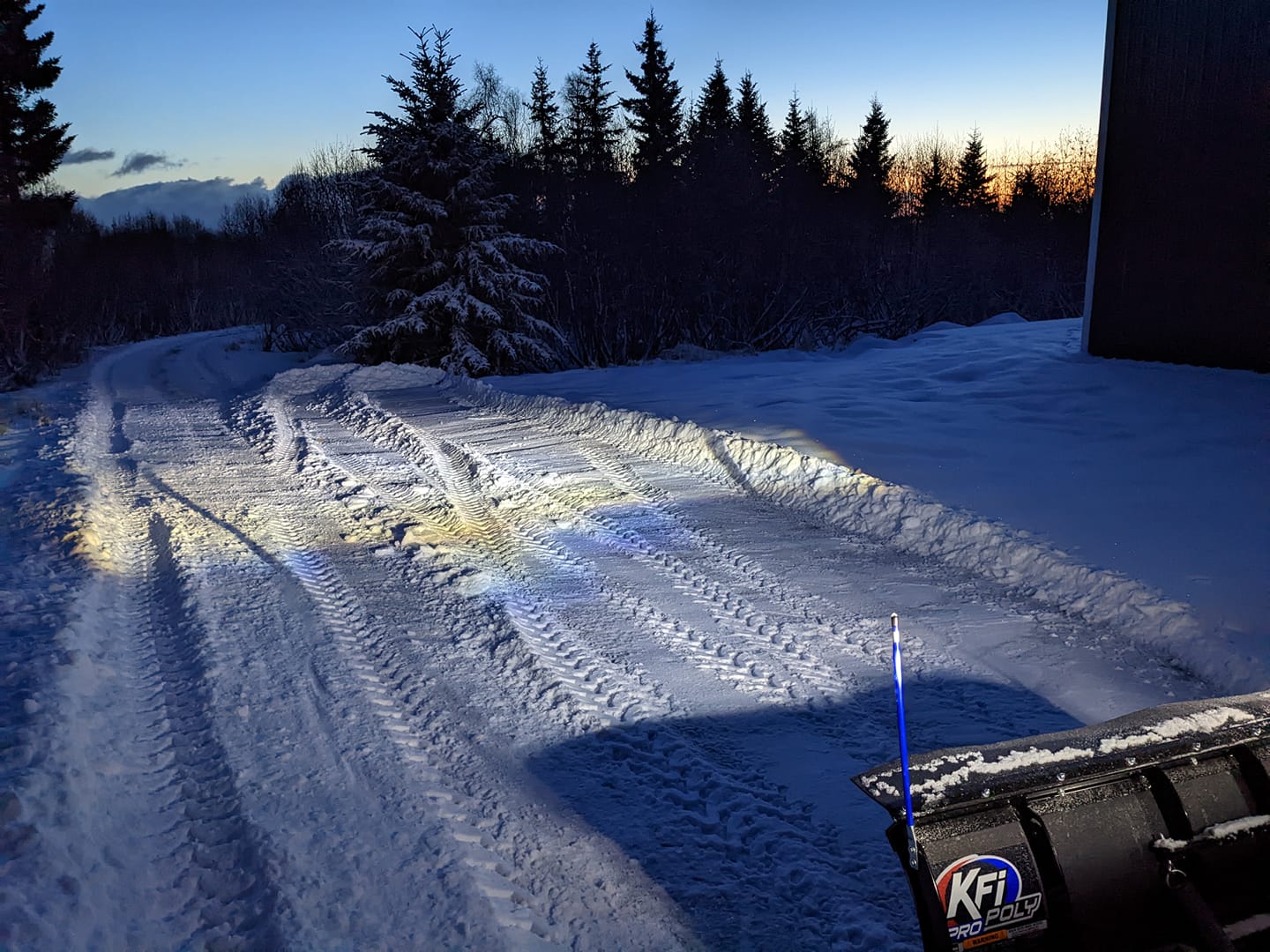 Say goodbye to shoveling snow by hand and let your UTV do the heavy lifting with a CFMoto snow plow kit! You can use CFMoto snow plow systems to clear everything from sidewalks and footpaths to gravel roads, driveways, and asphalt parking lots. Those long, tiresome, and back-breaking days of shoveling are over, because with a CFMoto snow plow setup, you'll make quick work of even the thickest layers of heavy wet snow! Whether you bought a CFMoto UForce specifically to push snow, or if you're looking to get a bit more functionality out of your CFMoto ZForce, when it comes to snow plows for CFMoto side-by-sides, everything you need to know is outlined below!
CFMoto UForce & ZForce Snow Plows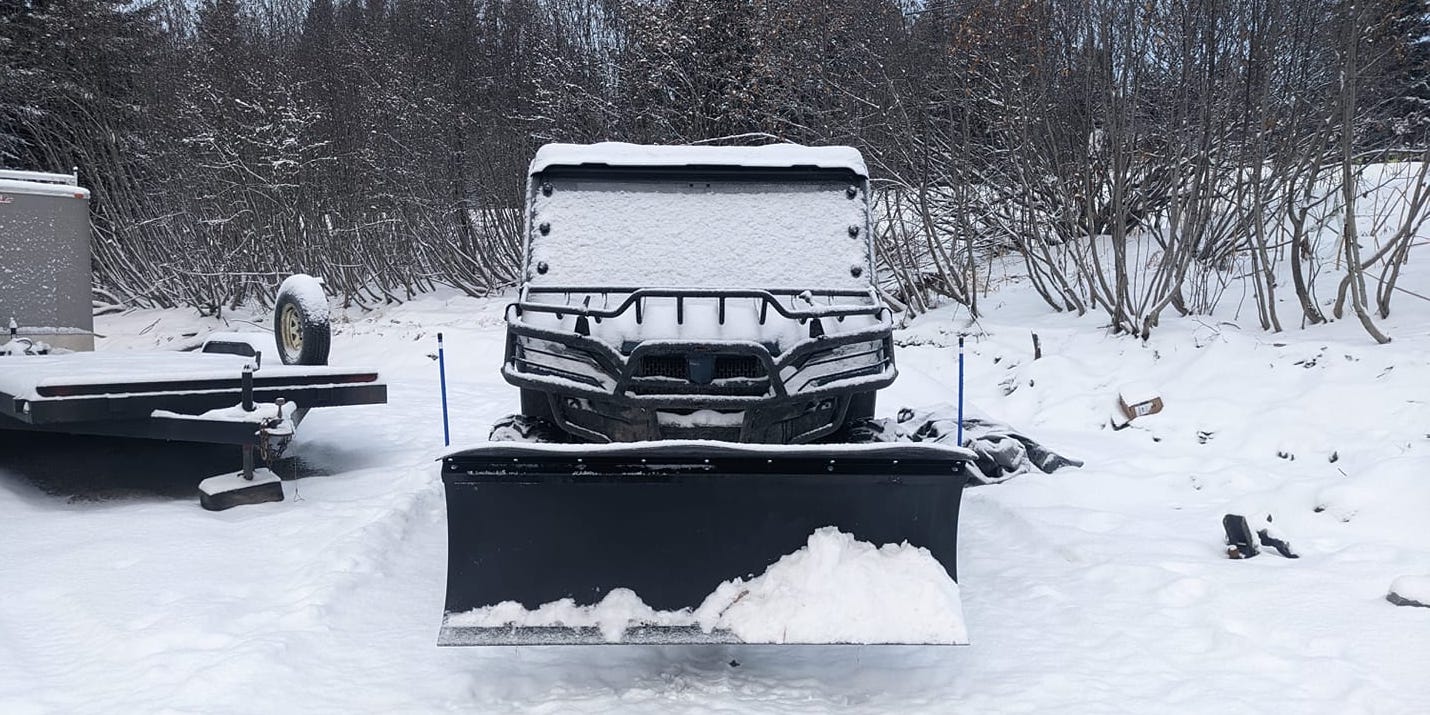 Some people say that Delnai snow plows are best for UTVs like the CFMoto UForce, while others are adamant about Boss snow plows. The majority of CFMoto owners, however, lean more towards these plows, plow blades, and plow kits!
KFI Snow Plows
Riders choose to go with KFI snow plows for various reasons. Not only are they American-made, but they're also well-built and easy to install. The complete KFI snow plow kit comes with everything you'll need to start plowing, including a blade, a push tube, springs, bolts, straps, markers, a pulley, and more!
For blades, KFI makes both steel blades (the Pro-Series) and "poly" blades (Pro-Poly) made from ultra-high-molecular-weight polyethylene. UHMW polyethylene is the same material used to make skid plates, and it's perfect for snow plow blades because it's tough yet flexible, and super slippery to prevents snow from sticking.
Depending on your needs, a 72" steel KFI plow blade with the KFI Lever Lift to keep tension off the cable could be right for you. Alternatively, a KFI snow plow setup that includes a hydraulicly-actuated Power Angle kit could be a better fit if you want to change the blade angle without having to get out and do it manually!
While 72" plows are fine on the ZForce or UForce, you may not need to go that wide. In fact, a KFI 66" Pro-Poly covers right to the edge of a UForce 1000 when positioned perpendicular to the vehicle. Be it a KFI plow mounting kit or a complete KFI snow plow system, you'll definitely be pleased with anything from KFI!
Denali Snow Plows
Like KFI, Denali makes a number of high-quality snow plow parts, snow plow components, and snow plow kits for the CFMoto UForce and ZForce. For a UForce 800, the Denali snow plow mount is among the best. But whichever CFMoto UTV model you own, there's a Denali plow that'll fit it!
Denali's Universal Snow Plow Mounting kit can be used on nearly any machine. But if you can get a plow mount for your exact machine, that's a better option. And while the Denali plow blades are as strong as they come, their push tubes seem to be smaller than other CFMoto snow plow kits, and the look liable to bend if you accidentally hit something like a curb, stump, or fence post while plowing.
Kolpin Powersports Snow Plows
Kolpin snow plows (and specifically, the Switchblade Plow and Conqueror Plow) are also popular among CFMoto owners. These winch-driven plows are sturdy, robust, and compatible with the Kolpin High Rise Snow Plow Power Angle. With a Power Angle unit installed, you can pivot your plow blade from side to side with the flip of a switch!
Honorable Mentions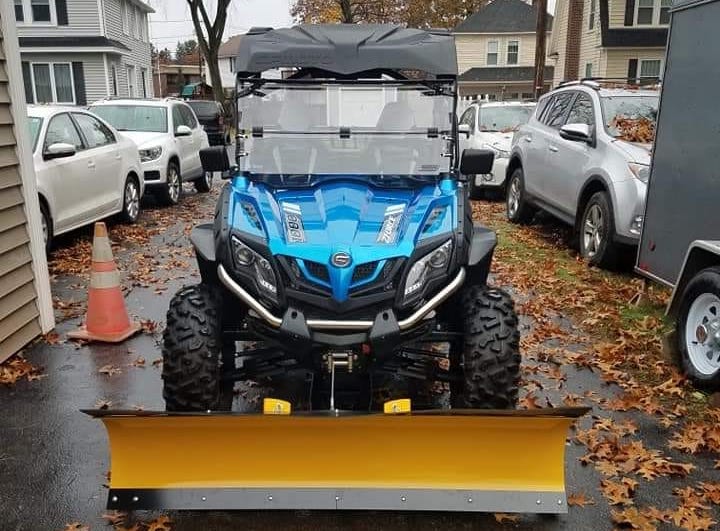 We can't end this CFMoto snow plow review without mentioning the Kimpex Click N Go plow – which is easy to mount / unmount and pivots in the center of the push frame for a higher lifting action – and the Moose V-Plow – which offers several configurations and capabilities that a standard straight blade simply cannot match!
You can push a bit of snow for a season or two with any old CFMoto ZForce or UForce snow plow, but with one of the aforementioned UTV snow plow systems by KFI, Kolpin, Kimpex, Denali, or Moose, you can move massive amounts of not only snow, but ice and slush as well. Plus, because they're built with quality materials by master technicians, the snow plows listed above are made to last decades, not years! And there you have it, the best CFMoto UForce snow plows and CFMoto ZForce snow plows for both commercial and casual use. Quit overthinking and pick one up for your rig today!